<![if !vml]>

<![endif]>
The Family
We (Jim and Janet Ervin) have been married since 1983 and have two wonderful children, Jennifer and Jason (human). We live in central Oklahoma, just north of Oklahoma City. We live out on 10 acres to continue our adventure in being a Labrador Retriever breeder.
Our first addition to the family was Ervin's Golden Apollo. Apollo captured our hearts from the moment we set eyes on him! We purchased him in 1999 and discovered that his pedigree relates him to Kelleygreen in Nevada. We visited there and were inspired by Sally and her love for the breed.
Our Philosophy
All of our dogs (male and female) are at least 2 years old and have had their hips certified by OFA to be free of hip dysplasia before they are bred. Our philosophy on breeding Labradors is simple. To breed for the well-rounded Labrador Retriever that is healthy, is trainable, has a great disposition, and will make a great family pet.
Our Naming Strategy

You may wonder about the names of our dogs. We both have a love for Greek mythology and we named Apollo after the sun god (Ervin's Golden Apollo). We purchased Daphne who was a nymph that was pursued by Apollo the sun god and turned into a laurel tree when Apollo caught her (Ervin's Daphne Laurel). Clytie was also a nymph, an ocean nymph, that caught Apollo's eye (Ervin's Clytia Ocean Nymph).
Our dogs get a visit from their veterinarian regularly. We have researched the pedigrees on our dogs back seven generations, so we know their history and are very confident in their lineage. Our dogs have PLENTY OF ROOM to romp out on our ten acres.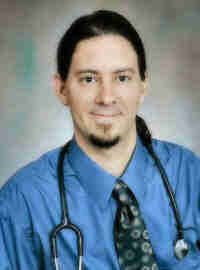 Our vet is Dr. Brian Jones. He has his own place, Woodlake Animal Hospital . He knows our dogs and supports our kennel and philosophy. You can read more about Dr. Jones and the hospital by clicking on his picture.