We feed our puppies
Iams ProActive Health
Product Information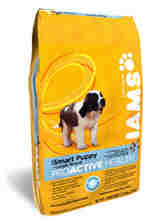 This Iams ProActive Health formula has PreBiotics that work inside the digestive tract to promote healthy digestion and strong defenses. Healthy inside. Healthy outside.
Designed for dogs ages 1-24 months and up to 90 lbs at maturity, Iams concentrated nutrition proactively nourishes your large-breed puppy to help keep him at his best.
Iams ProActive Health helps promote 7 signs of healthy vitality in your puppy:
| | |
| --- | --- |
| | Natural fish oils with DHA (Docosahexaenoic Acid), a nutrient vital for optimal brain development, promote smarter, more trainable puppies. |
| | Protein sourced from chicken and egg helps build strong, firm muscles. |
| | Calcium and other essential minerals to promote strong bones and joints. |
| | Gentle fiber source to support your puppy's ability to absorb nutrients |
| | Crunchy kibbles enriched with calcium and phosphorous scrub your dog's teeth with every bite, reducing plaque and tarter buildup. |
| | Enriched with antioxidants like vitamin E and beta-carotene to help build a strong immune system. |
| | Essential fatty acids, omega-6 and omega-3, help provide healthy skin and a shiny coat. |

Go to their website at: WWW.IAMS.COM to learn more about their products.