<![if !vml]>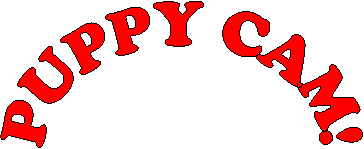 <![endif]>
Puppies have arrived!!
5/13/18: Pride has a litter of 4 puppies. You can keep an eye on her on cameras 3.
5/29/18: Gina has a litter of 6 Puppies - You can watch her on camera 4.
If this is your first time to watch our puppycams, please read the "For New Viewers" below. Also, please read the Viewer Discretion notice.
There may be times when the cameras are not operational. We sometimes lose power (during storms) which disables the cameras, or we update their locations. So please be patient and try again later if you can't connect. THANX!!
Puppy Cam 1 Not Available
Puppy Cam 2 Not Available
Puppy Cam 3 Pride Litter
Puppy Cam 4 Gina Litter
**Viewer Discretion Advised**
The cameras are on 24 hours a day, so when puppies are being born, you'll be able to watch if you like. Although birth is a natural and beautiful process, it can get a little "messy". This may be a little too intense for some viewers.
For new viewers: Your Internet Explorer may prompt to load "ActiveX" which is a Microsoft program. The location of this prompt will be across the top of the screen below the title bar. Click on the link and allow ActiveX to run. Once that is loaded, you will be further prompted by Panasonic (the manufacturer of the puppycams) to load a "camera control Add On". Once this is loaded, you will be able to see the cameras and be able to control them. Sorry for the inconvenience, but you'll be excited with the results. :o)